Qilu Net·Lightning News, June 23rd. Recently, the relevant person in charge of Shizhong District of Zaozhuang City came to Thailand to inspect the modern food industry, focusing on the operation mode of Tai'an Tengda Culture Catering Management Co., Ltd. .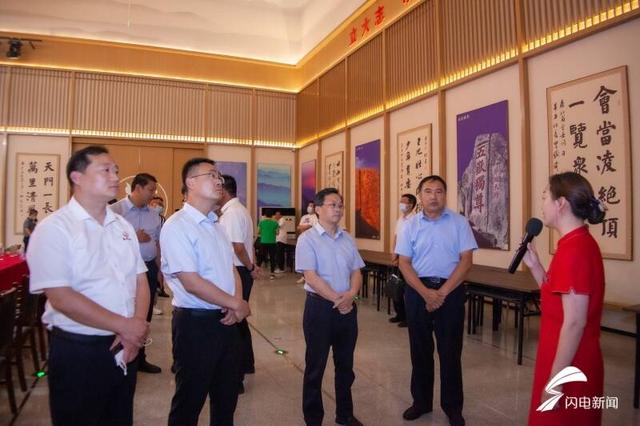 During the visit, the inspection team came to the restaurants of the No. 1 Middle School in Shengzhuang Town, the No. 2 Experimental School in Taishan District, and the Wanguan Road School in Taishan District to watch the nutritious meal catering process. "Our project departments adhere to the work policy of 'everything has a process', so that students can eat well and eat well in school life, which is the key factor to ensure their daily learning efficiency." said the person in charge of Tenda Culture.
As a representative enterprise of the modern food industry chain in Tai'an, Tengda Culture has attached great importance to the extension of upstream and downstream business in recent years. In the campus catering work, the company puts the students' catering work as the top priority, always puts food safety first, strictly implements the food safety management system, and ensures that the society, departments, schools, and parents participate in supervision to ensure that food safety. The company and the Taishan District Party branch lead the cooperative service center to jointly build the party branch, develop the "red chain and common wealth" model, vigorously promote the popularization of intelligent fresh cabinets, and realize the effective connection of agricultural products "from the field to the dining table".
Afterwards, the delegation went to the Organization Department of Taishan District Committee and the Party Committee of Xingzhuang Town, had a discussion with the relevant persons in charge, and observed the two locations of "Song Xiansheng" unmanned intelligent fresh-keeping cabinet and Donghu Community intelligent fresh-keeping cabinet to learn more about the operation. Patterns and MLAs. At the Taishan Research Base, the delegation visited major exhibition halls, comprehended the Taishan folk culture and listened to the voice of the times.
The inspection team also went to Taishan District Catering Center of Tengda Catering Management Co., Ltd., Bangze Shengshi Supply Chain Factory, and Taishan District Party Branch to lead a cooperative service center and other places for investigation and inspection.