On the 22nd, Caofeidian District, Tangshan City, Hebei Province held an investment promotion conference for port trade and logistics industry.Photo by Meng Chao
China News Service, Tangshan, June 22 (Baiyunshui Mengchao) On the 22nd, at the investment promotion conference of port trade and logistics industry in Caofeidian District, Tangshan City, Hebei Province, 36 port trade and logistics projects were signed, with an estimated annual trade volume of 85.208 billion yuan .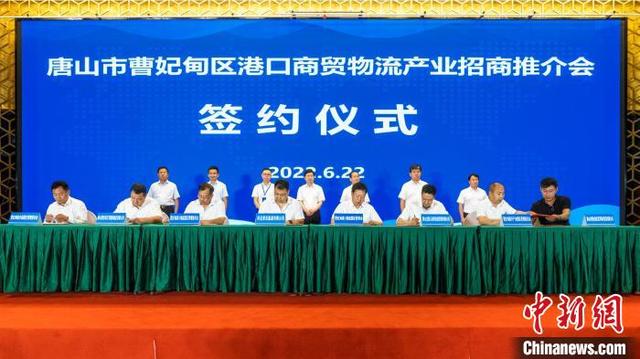 The Caofeidian District Port Trade and Logistics Industry Investment Promotion Conference is an important part of the China Langfang International Economic and Trade Fair. More than 160 companies participated in the "online + offline" method, and the signed projects involved bulk commodity trade, international import and export Trade, logistics and other key areas.
According to Liu Ziyang, deputy head of Caofeidian District, Caofeidian focuses on the development of four leading industries: international bulk commodity trade, port and shipping services, energy storage and distribution, and high-end equipment manufacturing. Over the past ten years, a total of more than 800 billion yuan has been invested, of which 6,000 yuan has been invested in the industry. It has been listed as the first batch of national circular economy pilot industrial parks, national economic and technological development zones, national petrochemical industry bases, China-Japan-Korea circular economy demonstration bases, comprehensive bonded zones, national smart city pilots, and Beijing-Tianjin-Hebei synergy. Develop demonstration zones, national cross-border e-commerce comprehensive pilot zones and China (Hebei) pilot free trade zones.
Hou Xu, secretary of the Caofeidian District Party Committee, said that since this year, Caofeidian has coordinated epidemic prevention and control and economic and social development, and has maintained a good trend of bucking the trend and improving quality and efficiency. Fixed asset investment, general public budget revenue, total import and export value, etc. The total amount of the three indicators ranked first in Hebei Province, and other major economic indicators also achieved high growth, ranking at the forefront of Hebei, and the development momentum of Xianghai is increasingly strong.
Caofeidian is located in the center of the Bohai Bay, with ports connected to the four seas and adjacent to Beijing and Tianjin. It is an emerging coastal port city.There are many "national brand" golden signs such as free trade zone, comprehensive bonded zone, cross-border e-commerce comprehensive pilot zone, etc., which plays an important role in the national strategy of coordinated development of Beijing-Tianjin-Hebei and the "Belt and Road" initiative.