Tesla will release the news of humanoid robots, detonating A-share related concept stocks.
On June 23, the A-share robot sector hit the daily limit again. As of the close, Yizumi had risen by more than 14%, and the daily limit of Great Wheel Intelligence, Taier Shares, and Shengshi Technology.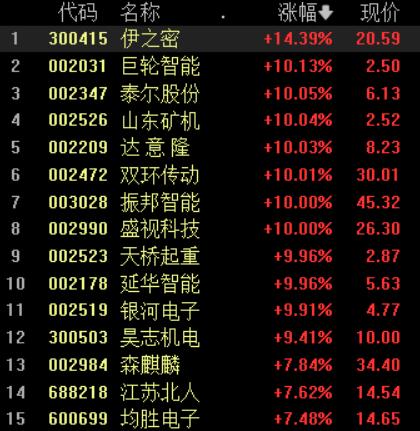 Robot "Optimus Prime" will be released, Musk: It will be "epic level"
A few days ago, Tesla CEO Elon Musk said on Twitter that Tesla may launch a working humanoid robot prototype in the next few months. Tesla internally named Tesla Bot "Optimus (Optimus)". The prototype will appear at Tesla AI Day on September 30.
Musk hinted that this AI Day will be "epic."
The latest research report of Guosheng Securities pointed out that Tesla Bot may be the most important product development project in 2022, and may even be more important than the automobile business. The first version is expected to be put into production in 2023, which will be used to fill the labor gap. The launch of the Optimus robot represents a big step in Tesla's artificial intelligence, which also means that Tesla's full self-driving feature will be close to maturity.
China Merchants Securities believes that Tesla's launch of a prototype humanoid robot "Optimus Prime" is expected to drive new changes in the field of intelligent robots.
The next outlet for A shares?
Zhongyuan Securities previously pointed out that my country's industrial robots still have a large room for growth in the medium and long term, and the core targets deserve great attention and strategic allocation. Relevant targets have undergone a long period of adjustment, the adjustment range is relatively deep, and the valuation has gradually matched the industry growth rate.
The latest research report of Guosheng Securities pointed out that from the analysis of the relevant industry chain, humanoid robots involve the integration of multiple technologies such as autonomous driving, visual navigation, and sensor technology, and the relevant industry chain has great growth potential, especially the upstream core components are expected to benefit directly. From the perspective of the industry chain, some core companies are worthy of attention:
(1) Leading reducer manufacturers in traditional industrial robots: Green Harmonic, Shuanghuan Transmission, Guomao, etc.; (2) Leading brands of industrial control systems: Huichuan Technology, Hechuan Technology, Bochu Electronics, etc.; (3) ) Relevant companies that have a solid foundation in machine vision technology and have achieved product application and integration: OPT, etc.; (4) Domestic robot integrated equipment manufacturers are expected to continue to benefit from the wave of robot generation set off by Tesla again, and Accelerate the technology upgrade, and the relevant core robot integration equipment is worth looking forward to: Estun, Eft, etc.
Many shares have been intensively researched by institutions this month
Wind data shows that the organization has frequently conducted research on individual stocks related to the robotics track since this month. Among them, Huichuan Technology, Eston, and Jingshan Light Machinery have been investigated by 433, 255, and 157 institutions respectively. Topstar, Midea Group, and Han's Laser have all been investigated by institutions.