According to a report from Colorful Guizhou.com, the government office of Xiuwen County, Guizhou said that on April 7, according to the assessment of the China Brand Building Promotion Association, the value of the regional public brand of "Xiuwen Kiwifruit" in 2021 has reached 2.335 billion yuan.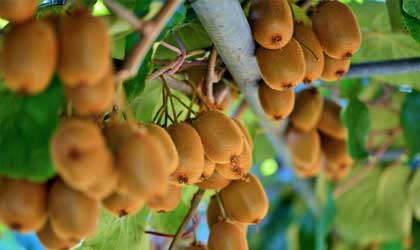 According to the data, Xiuwen is the third largest kiwifruit producing area in the country, mainly planting "Guichang" varieties.Xiuwen kiwifruit is late-ripening, and the peak picking season is generally from the end of September to mid-October.
In recent years, Xiuwen County has promoted the healthy development of the Xiuwen kiwifruit brand by strengthening geographical indication management, quality standard management, product procurement and sales management and other measures, and has successfully been approved to build a national geographical indication product protection demonstration zone for Xiuwen kiwifruit.
According to the report, in terms of strengthening the management of geographical indications, the county has severely cracked down on the arbitrary use of the public brand of Xiuwen kiwifruit.
In strengthening the management of quality standards, we strictly follow the provincial and local standards of "Xiuwen kiwifruit geographical indication products" and the industry standards for cultivation management, fresh fruit grading, storage and preservation, and market norms, and strengthen local sales leading enterprises and growers to carry out price protection " "Order" cooperation to guide growers to carry out standardized planting.
In strengthening the management of product procurement and sales, the county has comprehensively carried out publicity on early harvesting, early purchases, and the hazards of early sales to improve the quality of fruit products.Supervise behaviors such as early harvesting and early sales, and include verified market entities into blacklist management, and are not allowed to apply for projects and enjoy relevant subsidies within three years. "Transparency" to enhance brand reputation.
The county has also selected 98 custom-made orchards throughout the county, which are precisely linked with e-commerce platforms such as JD.com, Ali, and Baiguoyuan. According to the individual needs of enterprises, the fresh fruit industrial parks of e-commerce platforms such as JD.com Farm and Ali Orchard will be established.