According to The Phnom Penh Post, as the negotiation of Cambodian longan exports to China enters the final stage, the Cambodian Ministry of Agriculture urges longan growers and related private enterprises to complete the registration of plantations and packaging plants for exporting to China as soon as possible. In order to be able to export longan smoothly to China.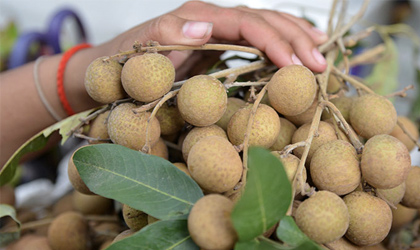 Ngin Chhay, director of the General Directorate of Agriculture of the Cambodian Ministry of Agriculture, Forestry and Fisheries, said at a press conference on March 18 that the Ministry of Agriculture is "closely monitoring" the review of plantations, packaging plants and pesticide use submitted to China to ensure that the export is launched. Everything complies with the provisions of the Chinese Protocol.
Of the longan growers who received relevant training in the province last year, "only about 30 percent" applied for farm registration, said Say Sophat, the minister of agriculture in Pailin province, on March 27.
Sophat noted that due to the lack of irrigation systems in Pailin province, the cultivation of longan in Pailin province is lower than in neighbouring Battambang province, but the ministry is "currently preparing to develop more systems so that longan can be exported in the near future. to China".
Pailin longan cultivation is currently increasing significantly.Cambodia's national longan planting area exceeds 13,608 hectares, mainly distributed in Battambang, Pailin and Banteay Meanchey provinces.The average yield of Pailin longan per hectare is 7-30 tons.
Previously, due to phytosanitary issues, Cambodia could not directly export longan to China, so Cambodian longan could only be exported to China via Thailand.