Central Broadcasting Network Beijing, June 22 news On the 21st, Shanxi Xinghuacun Fen Winery Co., Ltd. (hereinafter referred to as "Shanxi Fenjiu") issued an announcement on the implementation of the 2021 annual equity distribution.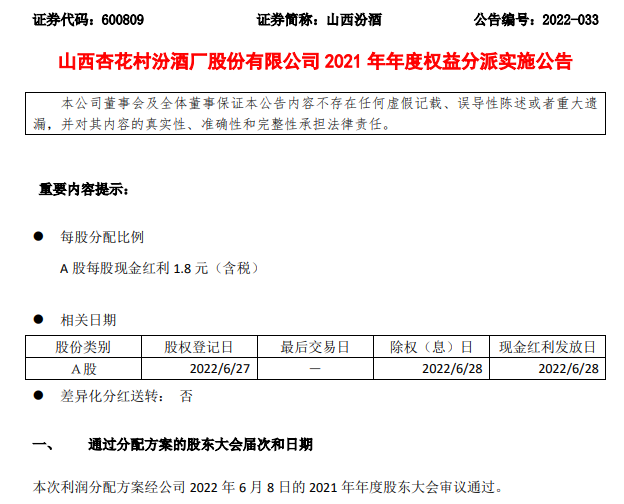 (Screenshot from the announcement of Shanxi Fenjiu)
The announcement shows that this profit distribution will be based on the company's total share capital of 1,220,073,422 shares before the implementation of the plan, and a cash dividend of 1.8 yuan (tax included) will be distributed per share, with a total of 2.196 billion yuan in cash dividends. The equity registration date is June 27, 2022, and the ex-rights (interest) date and cash dividend distribution date are June 28, 2022.
In addition, the announcement shows that the cash dividends of shareholders Shanxi Xinghuacun Fenjiu Group Co., Ltd. and Huachuang Xinrui (Hong Kong) Co., Ltd. are distributed by the company itself. Except for the shareholders whose dividends are distributed by the company, the cash dividends of other shareholders of the company are entrusted to China Clearing Corporation Shanghai Branch to be registered with the Shanghai Stock Exchange after the market closes on the equity registration date through its capital clearing system, and are processed by the members of the Shanghai Stock Exchange. Shareholders who have made a designated transaction. Investors who have completed the designated transactions can receive cash dividends at their designated securities branches on the dividend distribution date. The dividends for shareholders who have not completed the designated transactions will be temporarily kept by China Clearing Group Shanghai Branch, and will be distributed after the designated transactions have been processed.