Changsha Huike's 8.6th generation ultra-high-definition new display device production line project received a credit of 1 billion yuan. Tyco Tianrun of Liuyang Tyco Tianrun Semiconductor Technology Co., Ltd. The semiconductor chip project has been granted a credit of 1 billion yuan...
Recently held in Liuyang City in 2022 "Golden Enterprises Connecting on the Front Line" - the special event of social investment key projects, 9 key projects received a total of 3.5 billion yuan in bank credit.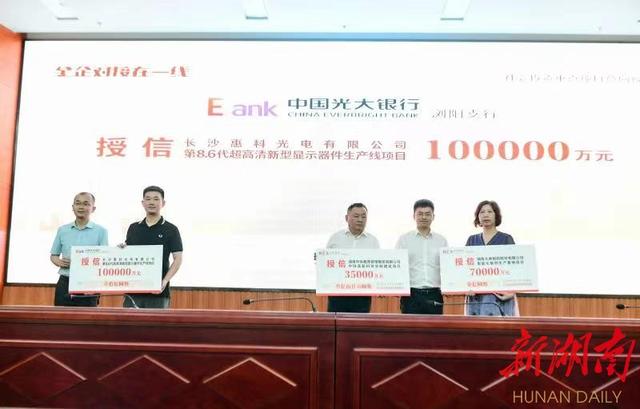 This special event was jointly organized and carried out by Liuyang Financial Service Center, Liuyang Development and Reform Bureau, and Liuyang Sub-branch of the People's Bank of China. This important measure is also one of the sub-events of the 6th Financial Services Season in 2022·Liuyang City. It aims to build a communication platform through the government to promote the early landing, early start of construction and early production of key construction projects.
At the event site, the relevant person in charge of the Municipal Development and Reform Bureau introduced the construction of key projects in Liuyang City, and the relevant person in charge of the Liuyang Sub-branch of the People's Bank of China elaborated on the relevant policies for financial services to stabilize enterprises and bail out.Representatives of more than 30 key projects in the city, heads of 19 financial institutions, and heads of credit business gathered together to conduct a special meeting on financing issues.
Six banks including Industrial and Commercial Bank of China, Bank of Communications, Postal Savings Bank of China, Changsha Bank, Liuyang Jianghuai Rural Bank, and Minsheng Bank introduced their characteristic products, loan policies, specific procedures, service advantages, etc. The project provides richer, professional and efficient financial services.
In 2022, Liuyang will arrange a total of 343 key construction projects at the same level, including 284 major projects in Changsha.10 projects including Changjiang-Jiangxi High-speed Railway and Jiaohua Reservoir have been included in the provincial key construction project plan.As a provincial and municipal key project, Changsha Huike's 8.6th generation ultra-high-definition new display device production line project, from 2019 to Liuyang Economic and Technological Development Zone, to January 23, 2021, the first production line was lit up and put into operation, which took only 14 months , refreshed the "Liuyang speed" of major project construction.It is understood that after the project is put into production, it is expected that the annual output value will exceed 20 billion yuan and the tax revenue will exceed 2 billion yuan, which will fill the gap in the field of high-definition display panel manufacturing in Hunan Province.
It is understood that this is the eighth gold-enterprise matchmaking activity held in Liuyang since the beginning of this year, to achieve effective connection between financial resources and enterprise projects, and to help more than 500 enterprises obtain bank credit of 12.4338 billion yuan, effectively easing corporate financing problems and activating Develop "new kinetic energy".
The person in charge of Liuyang Financial Affairs Center said that in the next stage, activities such as the "Financial Service Season" will be used as carriers to guide financial institutions to continuously improve the quality and efficiency of serving the real economy, and promote mutual support, close cooperation, and win-win development between banks and enterprises. "Strong provincial capital" strategy pioneered the way.