Sino-Singapore Jingwei, June 22. On the 22nd, the Shanghai Composite Index remained volatile, with longs and shorts competing for 3,300 points, and fell more than 1% in late trading; the ChiNext Index fluctuated widely, rising more than 1% during the session.
As of the close, the Shanghai Composite Index fell 1.20% to 3267.20 points; the Shenzhen Component Index fell 1.43% to 12246.55 points; the ChiNext Index fell 0.58% to 2677.29 points. The turnover of the two cities was 996.5 billion yuan, falling below one trillion yuan.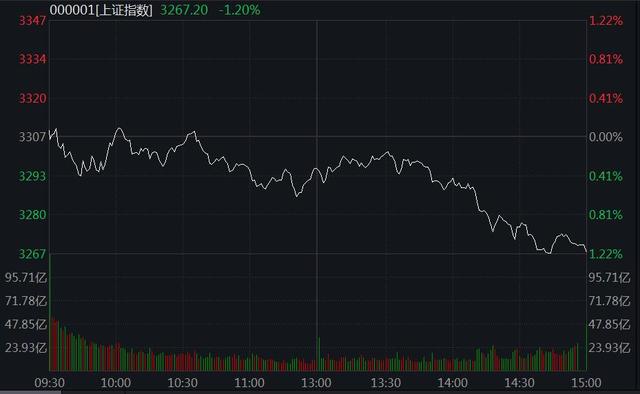 Source of all-day trend of Shanghai index: Wind
On the disk, the pharmaceutical business sector led the gains, with 20% daily limit on Yao.com, and 20% daily limit on Shuyu Civilian and No. 1 Medicine; the auto sector was active, with Ankai Bus and Yutong Bus hitting the daily limit. HJT battery concept stocks rose strongly in the intraday market. Roboteco rose by 20%, Xingshuaier, Jingshan Light Machinery, GCL Integration, and Akcome Technology rose by more than 8%.
Most sectors such as oil and gas exploration, scenic tourism, media, semiconductors, computers, education, beverage manufacturing, military industry, real estate, and securities companies fell.
As of the close, the ratio of all trading stocks in Shanghai and Shenzhen stock exchanges was 948:3742, with 82 daily limit and 7 down limit in the two markets.
In terms of individual stocks, today's daily limit shares are as follows: SINOMACH (9.99%), Baotou Steel (9.87%), Zhengzhou Coal and Electricity (9.94%), Yanhua Intelligent (10.11%); Shenzhen Zhonghua A is nearing the end of the daily limit. Top plate, the quotation hit a record high of 5.49 yuan. The limit-down shares are as follows: Goertek shares (-10.01%), delisted Xiamen China (-9.38%).
The top five stocks in terms of turnover rate are: Yaxiang, Sany Heavy Energy, Chengchang Technology, National Cable Testing, and Meinong Biology, which are 69.231%, 68.344%, 64.582%, 54.906%, and 50.307%, respectively.
In terms of northbound funds, the net outflow of northbound funds exceeded 4.5 billion yuan throughout the day, including more than 700 million yuan outflow from Shanghai Stock Connect and 3.7 billion yuan from Shenzhen Stock Connect.
Guosen Securities believes that in the second half of this year, China's stock market will move towards a "slow bull". It is expected that the growth rate of corporate profits will have a bottom effect in the middle of the year. With the restoration of the balance sheet, the profit growth rate will marginally improve. The medium-term investment strategy recommends industries that "make more money and spend less money", and suggest that investors deploy industries that are difficult to reverse.